Well, that last post was bracing, wasn't it? Don't worry: this one has adventures, spanking and photos in it. Whew!
On Tuesday night, I arrived in Holland, where I was picked up from the airport by Mike from
Spanked in Uniform
and
Real Life Spanking
s. We chatted about various things, including what we'd be shooting in the next two days while we drove from the airport to the hotel where I'd be staying. This was a much more welcoming hotel than the last one had been: I found my room right away, the lights worked, the room was warm upon arrival and it had much more space. I got on the internet and talked to Malignus for a while, then took a long, relaxing bath. I got my things ready for the next day and then got a good night's sleep.
The next morning, I got up and got ready, then Mike picked me up and brought me over to his studio. We started brainstorming about which scenes, exactly, we were going to shoot. I love dressing up, so shooting for a site whose whole point-of-concept was uniforms was a lot of fun for me. The first scene which we shot was for
Real Life Spankings
. It was a pretty straight forward scene (few details, as it is yet to be released) but I was surprise to discover just how hard Mike's hand-spankings were. He fell into the rare camp of Tops whose hands hurt worse than many implements.
The next scene that we shot has been released, so I shall show you some photos. It's for
Spanked in Uniform
's sub-series "Europe Airlines," and features me as a stewardess, what else? I liked the pink outfit: quite girly and adorable. In the film, I've been caught trying to smuggle foodstuffs and alcohol back to the US, and get promptly spanked, and then paddled with a leather paddle.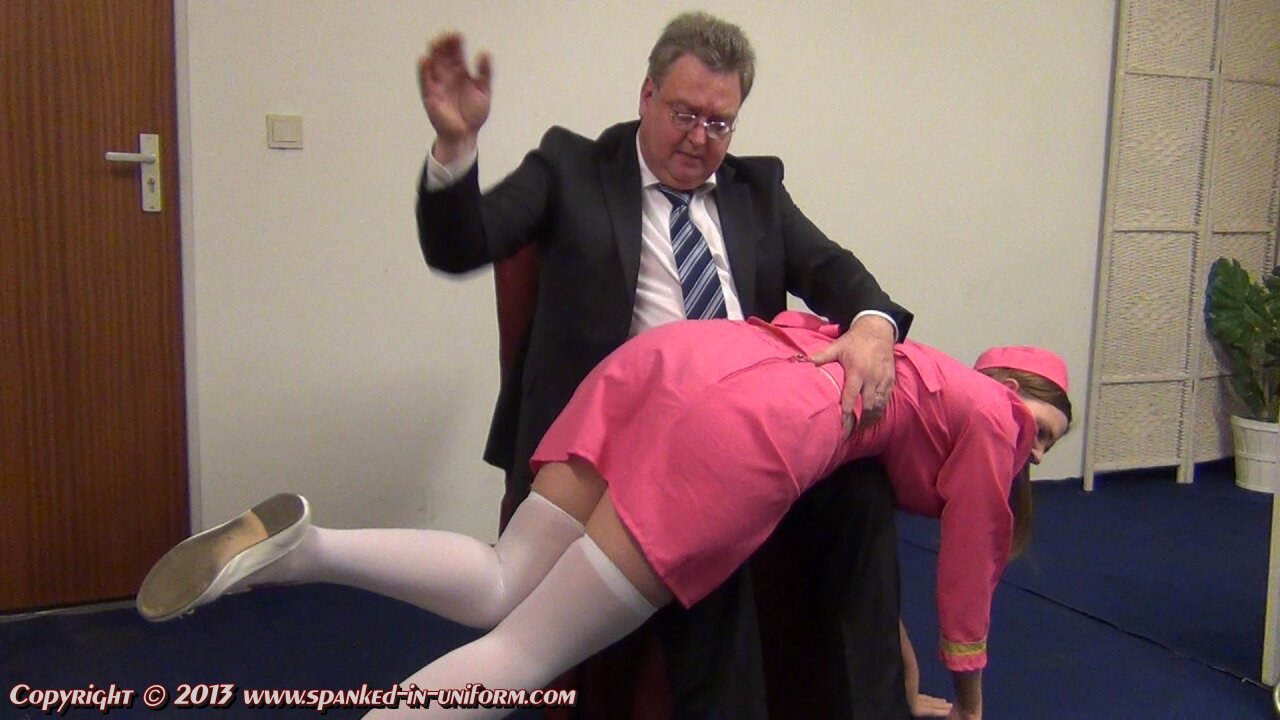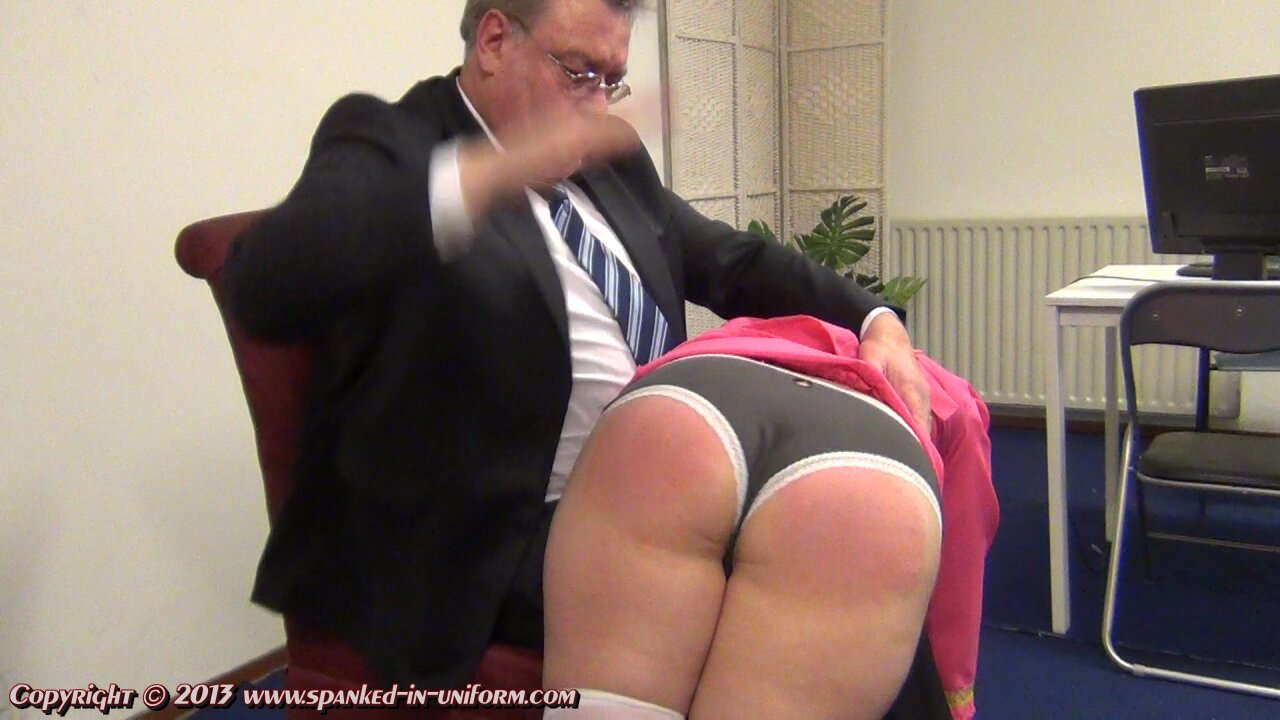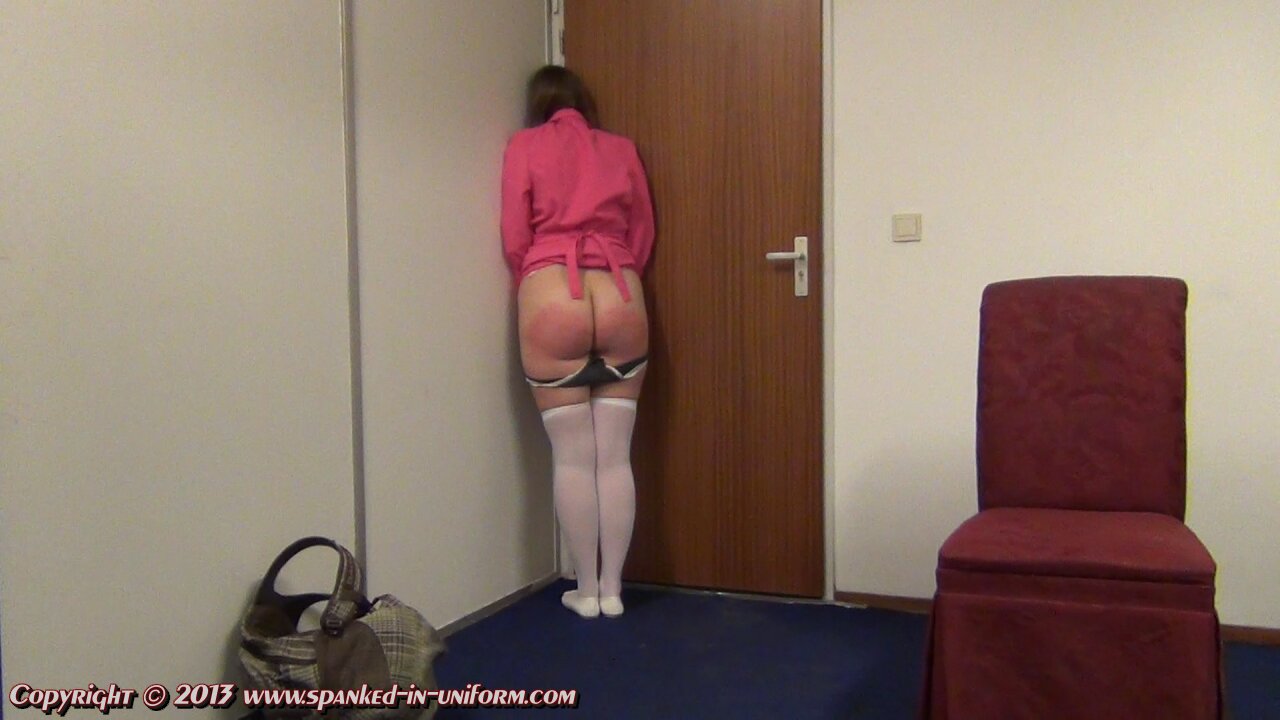 Alex Reynolds IN A CORNER? Now that's just unnatural. :P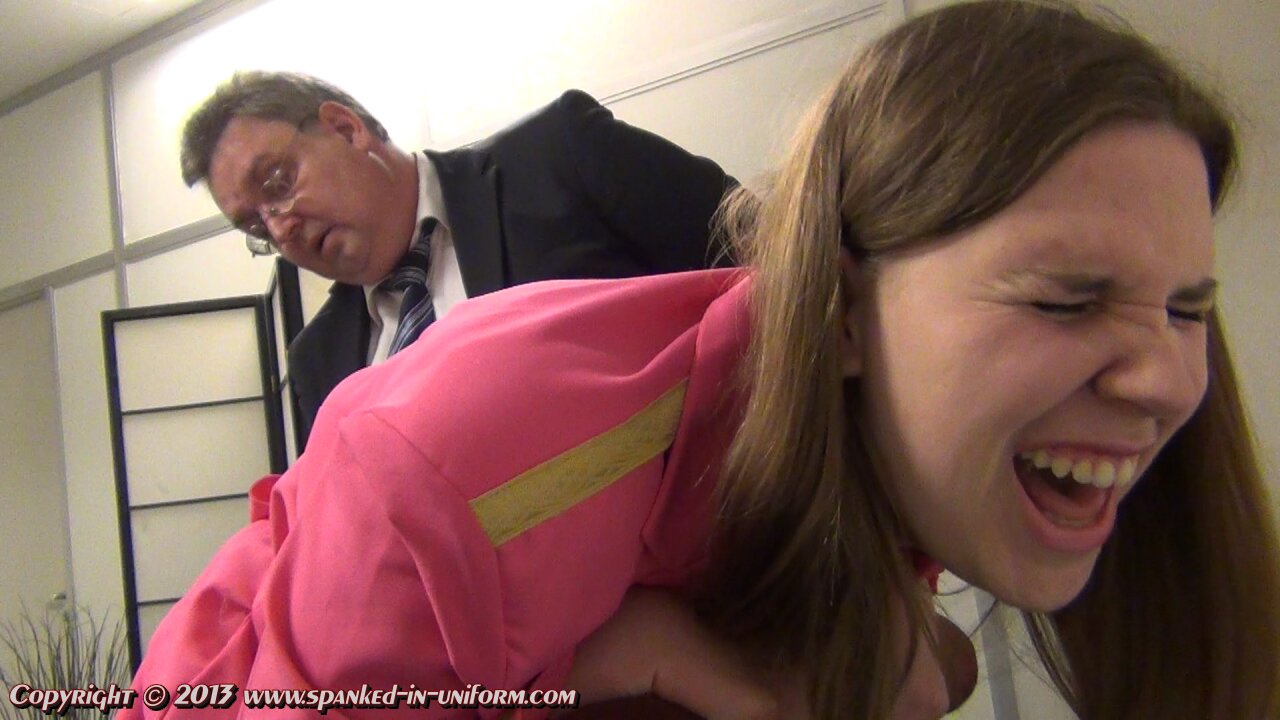 I'm pretty sure that the next scene that we did was for
Spanked in Uniform
's Star Trek themed segment: "The Disciplinary Ship Genesis." I originally intended to bring my own Star Trek TOS uniform with me, to ensure proper fitting, but it was among the things that didn't make it overseas with me. Fortunately, one of the uniforms on hand suited me pretty well.
Now, let me just point out that I'm into Star Trek. Star Trek spanking fantasies have been part of my life since I was a pretty young girl, although they were usually either based around the idea of being a Yeoman (I've always really fetishized service-type positions) or they were very directly Fanfictional regarding characters of Star Trek: TNG. In case you're kind of making a squinty face at me and saying "Really, Alex?": yes. Really. It's okay. This makes me hot. :D
So, because of this background, shooting any kind of Star Trek type scenes was lots of fun for me, and I enjoyed wearing that uniform very much. In these scenes, I play a misguided Ensign who will probably follow the path of Harry Kim and never receive a promotion, as I've been messing around and polishing torpedos instead of manning the Weapons Bay properly. My character's ridiculous judgement call almost costs everyone their lives when the ship encounters a Borg cube. Oops. There's no better response to almost getting everyone on a ship killed than spanking, though!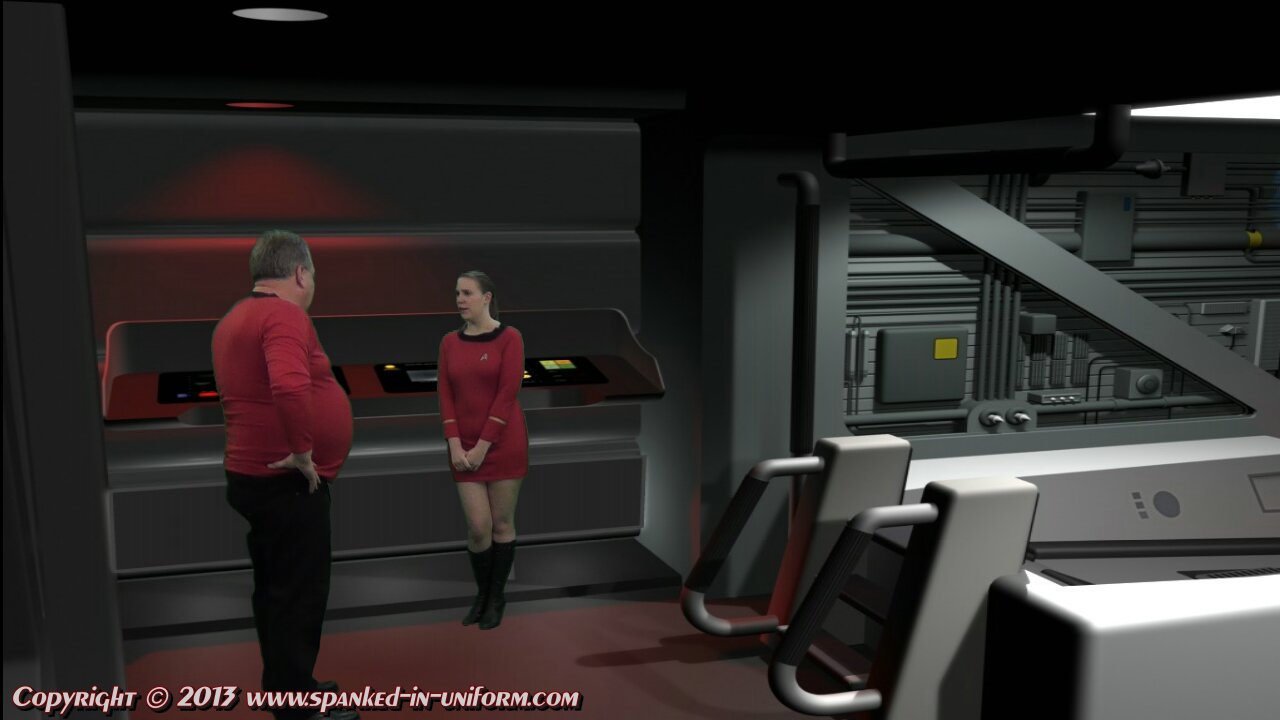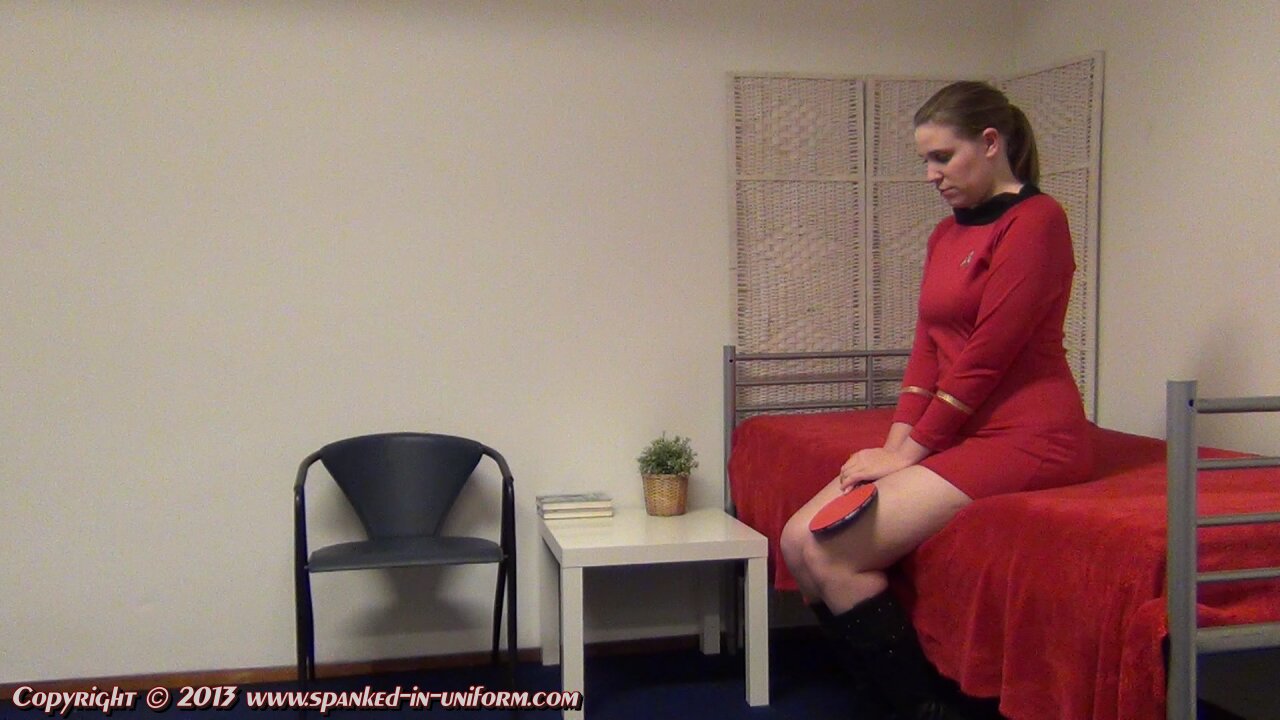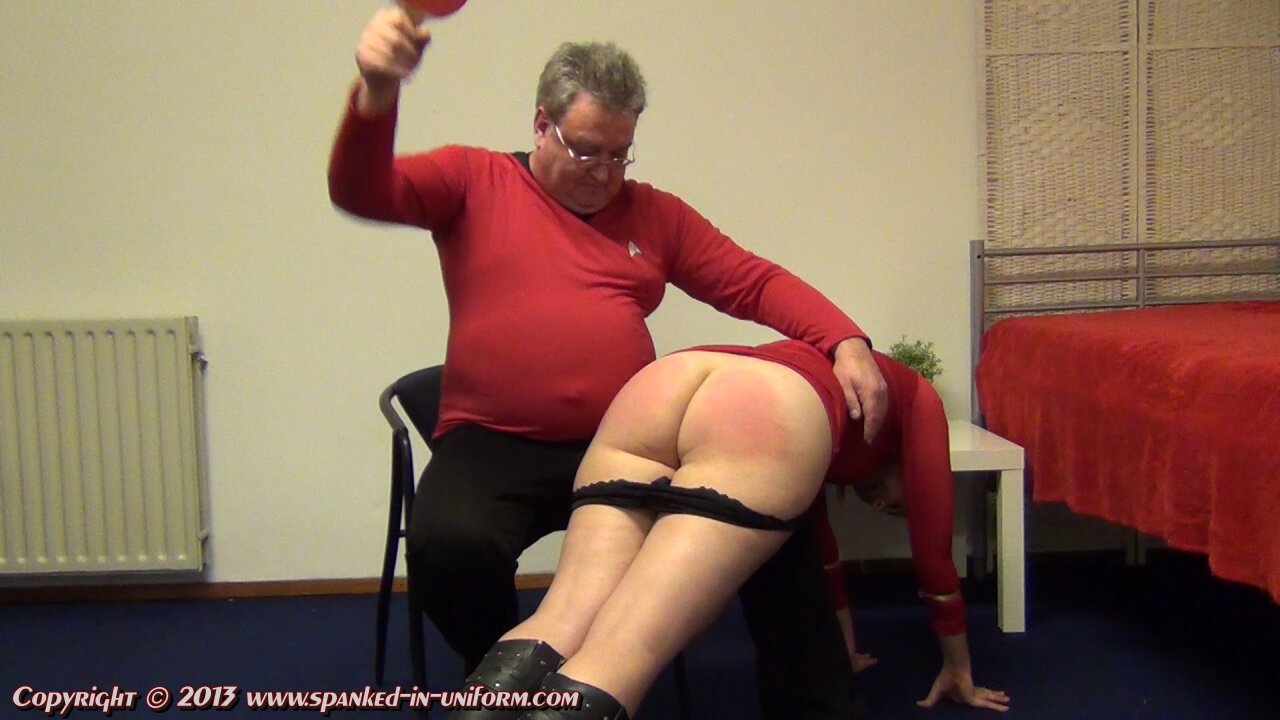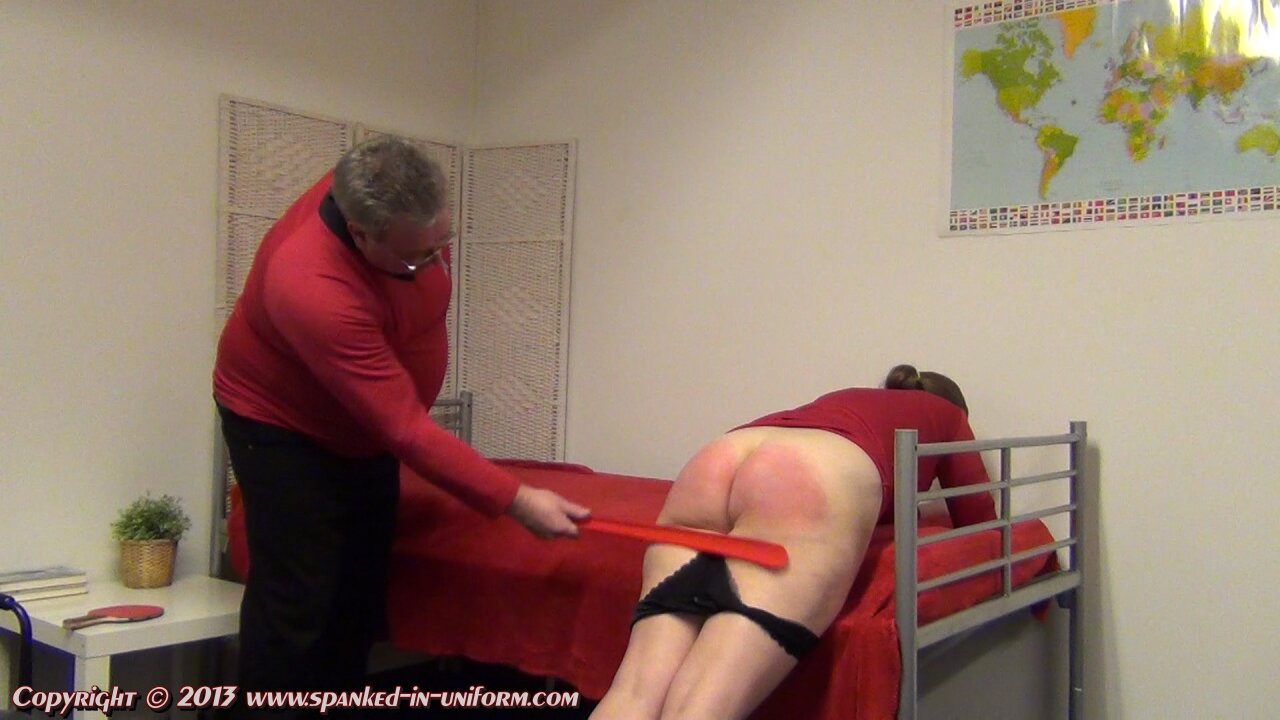 We took a break for lunch, after which we did two more scenes that have yet to be released. One was for the series "Mike's 50's Diner," which was a lot of fun to film because in it, I got to be a horrible, stuck up brat. A lot of the characters that I get to play are good girls: sweet, repentant, apologetic girls. Admittedly, because this is closest to my usual real life scene behavior and because this is sort of what I started out with, those are the characters where I probably do the best job. Still, I find other sorts of behavior lots of fun, and I've enjoyed getting more comfortable and proficient at being mouthy, witty, bratty and sometimes horrible. That scene was a fun example of that.
The final scene of the day was on the exact opposite end of the spectrum. It was for the Military Academy series, and I played a character that was possibly more of a goody-goody than I actually am in real life. If I'm not being aware of it, I can sometimes be annoying good: you don't want to do that thing? Well, let me do it instead! Oh! I know the answer to that question! Pick me! Let me tell you some facts!
And also, me.

This is not always the best way to make friends. In this scene, though, it was fun (and kind of refreshing) to be so super good, although I can rest assured that if I were in an actual Military School environment, every other cadet would hate me and want horrible things to befall me.
I also liked the outfit that was worn for this series. The little hat was particularly enjoyable:
By the end of the day, I was basically toast. My bottom was sore in lots of different ways, but it mostly felt raw, and my skin was getting kind of hard and dried out. This was kind of intimidating for two reasons: the first being that I had three more consecutive days of shooting coming up. The second was the fact that I had dumped my lotion when trying to lighten my bag and that hotels in Europe don't seem to give out as varied an assortment of toiletries as American hotels do. Still, I'm basically a champion when it comes to spanking stamina, and I had hardly a mark on me at the end of the day, so I wasn't too overly concerned.
We packed up all the mean, awful things that I'd been getting hit with all day: :D
It's an instrument that's hard to play quietly.
and then Mike and his lovely wife took me out to dinner at a restaurant which was bear themed. They didn't even do this on purpose, either, but it was entirely perfect for me. There were bears everywhere, and I couldn't stop staring at them.
BEARS
I even took a photo in a bathroom that wasn't of my butt reflecting in the mirror!
I basically need this in my house.
After dinner, I felt refreshed and relaxed and I went back to the hotel, where I soaked in the bath for a long time. Being a resourceful girl, I decided to apply some hair-mask to my butt to take the place of lotion. Please note that this isn't a recommended "asscare" practice, but it worked in a pinch. Before too long, I had gotten tired and drifted off to sleep.
♥