I've had so many adventures now that I have to push myself to get the posts out before the memories begin to fade. I'll be doing two kinds of posts while working on this: the "party report" type posts that tell you what happened when and where and at least three "scene stories" that do a more intimate look at a particular spanking and what it meant to me. Stay. Tuned.
That said, I'm currently in Europe, so my posting schedule might be a bit erratic. I'm obviously going to do my best. :)
After many exciting adventures in Los Angeles, including spending a great deal of time with Mila Kohl, I got on my plane and headed for Las Vegas. I've been there twice before: once with Malignus and Heather Green for tourism purposes and once for Shadowlane. When I arrived,
Lily Starr
and Robert Wolf were kind enough to pick me up and bring me back to the hotel. I was energetic and apprehensive in a positive way. I had a lot of people that I was looking forward to seeing and I had built anticipation for several scenes. There were people I'd be finally getting to play with, friends I hadn't seen in a long time and, of course, YS. You may remember that back in October I reported that I had begun a D/s relationship with him. There have been several times since then when I've talked a little bit here and there about certain aspects of that dynamic. Still, I hadn't actually seen him since we began that, and I was really,
really
looking forward to that. I kept bouncing around the backseat of the car and talking way too quickly. I also felt physically a bit gross, though. Even though my flight was very short, it had a broken air conditioning system and I was seated next to two middle school age boys: not people known for their excellent personal hygiene. I was looking forward to freshening up.
While we were en route to the hotel, we got a call and were asked to go to
Dana Kane
's place to pick up
Princess Kelley
. We did that, and I was happy to get to see Dana, her wonderful husband and their sweet cat, Noodle for a minute. Hugs all around! I am really hoping that I'll get to see Dana at some point next month. She's just one of my favorite people. :)
When we arrived at the hotel, we took all my luggage (as seen in the last post) up to Joe and Ten's suite. I was spending Thursday night with them, and planning on moving in with YS and ellee when they arrived on Friday. Because the room where I was staying was also the party room, I was going to have to see everyone for a moment before I could get showered and changed. We knocked on the door and it was opened... by
Richard Windsor
.
Now, for those of you who don't know, I'd basically spent the past month or so being a very badly behaved girl towards him over the internet for the purpose of funsies. The whole thing will require at least one post of it's own, but it's the stuff of legend, in my humble opinion. There will be poems and songs for generations. :P
Anticipation building via twitter earlier that day
Over the last couple of days leading up to the party my "
being bad is fun!
" bubble had popped and I was very contrite and apprehensive towards the chastisement that I knew I'd be receiving, and I felt rather shy around Mr. Windsor when I first arrived. We had about five seconds of friendly, positive interaction, yet it gave me a whole new case of butterflies. I then ran around the room saying hi to everyone. I was pleasantly surprised to see Whooperine there. I had no idea that he was coming, and it was the best news ever. I basically catapulted into his arms and gave him a kiss. At this point, though I had reached a state of sweaty mania and I was running from person to person, hugging and bouncing and being overly energetic and entirely unpresentable looking. My hair was a mess and I had on JEANS (curse the day!) so I gathered up my bathroom stuff and snuck off to get presentable. I intentionally calmed myself down in the shower (doing all the "
be here, now
" stuff that Malignus has lovingly instilled in me over the years) and felt much better after getting myself cleaned up and put together. I got into a skirt and top and went back to the party. At this point Richard had vacated the room, which I found slightly disappointing as I'd had liked to make sure he didn't think I was running away from him out of fear or something, but basically everyone else was still there. After a little more talking, I had a new goal: I needed to pop the lid off this spanking thing.
I ended up starting my party play for the weekend with Robert. This was a somewhat unusual choice on my part. There are two factors that go into how hard a person spanks me. The first is a combination of that person's preference and ability. This is the Top's side of consent: we can only play as hard as (s)he is able to play and desires to. The second factor is my comfort with that person. The more I know someone, the more comfortable I am with being spanked severely by them. Malignus obviously gets the highest possible score in this system, being both a very mean sadist and one of the loves of my life. Robert is pretty close to the top, though. We've developed a great bond over the years and, to put it bluntly, he's mean as fuck (in a good way). He's one of the people I've played with the hardest, period. So he's not someone that I usually would consider asking to be nice to me. It's almost mean to him! "Here, Robert! I'm going to get over your lap and whimper and squirm as you spank me and I DON'T want you to make it all that hard!" is like telling me "Here, Alex! I'm going to give you this cute bunny and I DON'T want you to cuddle it." The spanking was really nice, though. He clearly restrained himself out of the heart-age. (Note: I am not implying that Robert murderizes every girl he plays with. That's just our relationship). After that, I sat on his lap and snuggled for a while as I talked to him and Lily. I felt really good: happy, content and surrounded by people I love.
Just a few minutes later, I was over Drlectr's lap for another spanking. Drlectr is really special to me, and I love being spanked by him. I adore knowing that he's probably got a grin on his face that he can't stop while he lays into me, and his lap is one of those where I feel the safest and snuggliest. I think that I also abused my snuggling-on-someone's-lap-after-a-spanking privileges after that scene, too.
My last play for the night took place when H, Cali Katerina's husband, decided to catch up with me over this photo: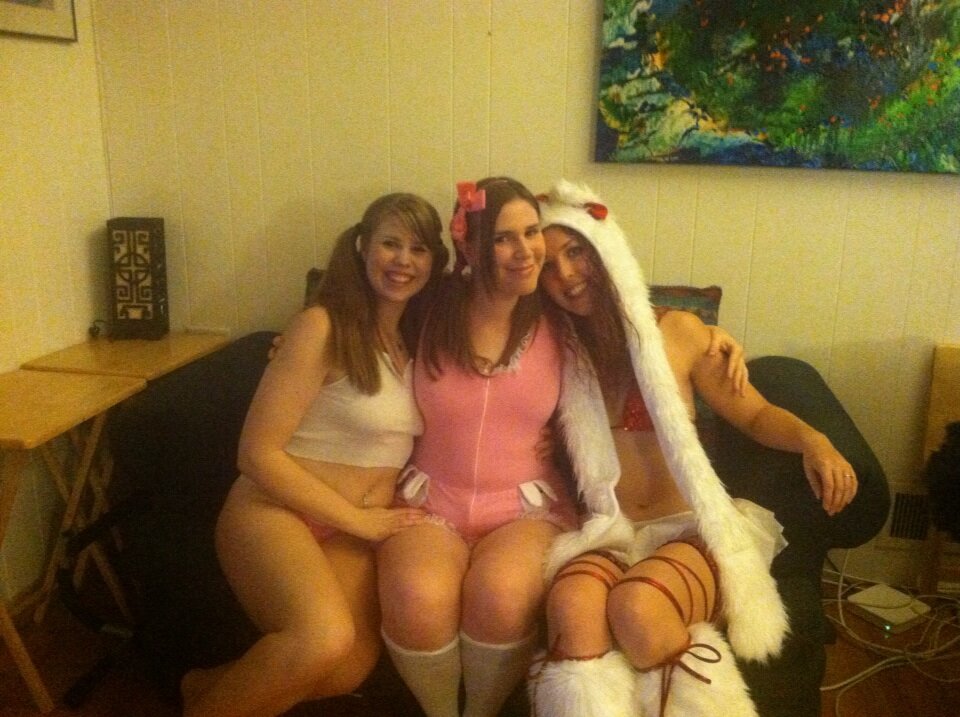 I stuck this little gem of Christy Cutie, myself and Maddy Marks on Twitter a little while ago with the caption "Sterwood Girls gone wild!" The three of us all shoot for Sternwood Academy, so it seemed like a funny idea since we were all half naked and partying.
"You're a Sternwood Girl!" H reprimanded me, clearly in roleplay mode. "You should know better than to be running off to wild parties! You'll disgrace the institution!"
I was then bent over for a good, firm but not too firm paddling until I confessed the errors of my ways.
Everyone knows that I am a very good girl who does not do ridiculous things at parties, anyway.
Yes, I'm sure that's what the next few posts will prove.
♥